Miscellaneous
We were getting too much spam, so we don't have an email address. Sorry.
---
All fictional characters and likenesses are the property of their creators and copyright holders. No harm is intended and no profit is made. We're broke, so a lawsuit would be pointless. Site layout and sheer comic genius content by Devil Doll and Albertina.
---
"You know what they say: life's a bitch and then you wind up in some crazy chick's harem universe." -- Logan
The Amazing Adventures of Gambit's Ass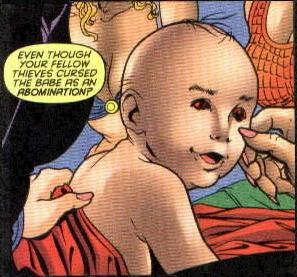 As my luck would have it, there aren't even any decent baby pictures of me. Most people love to take pictures of a baby's naked butt. But I guess in our family they didn't put a lot of effort into preserving memories.

Damn shame, too. I was a really cute baby.
Look at us, charming the ladies even back then.
Next